Now that the London 2012 olympics has come to a close, perhaps it's time for us all to reflect on what drives our great athletes. Can we use this as a source of inspiration for our own business and future success?
An athlete expels blood, sweat and tears in order to reach their ultimate goal of a berth at an Olympic Games. They will toil for hours on end, year after year, determined to succeed; hone their natural abilities; maintain focus and direction; sought out guidance; surround themselves with experience; implement regimented schedules; take advantage of new technologies; compete against rivals to improve competitiveness; and visualise success to achieve the result they yearn for.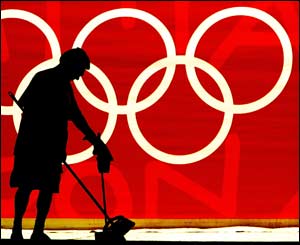 The objective of the athlete's gruelling training and preparation is designed to get the edge on their competition. To prepare for that moment in time when all they have worked on over the years will come together to enable the athlete to perform at their optimum.
It takes 20 years to become an overnight success
 Being successful in business will require many of the same attributes of the elite athlete. Acquiring such discipline will undoubtedly improve business performance.
Possessing an athlete's determination to succeed: just as every athlete worth their salt will have a determination to reach their full potential and outperform their competitor, so to will the successful businessman.
Attaining and enhancing skills: to stay on top of the game in business, just as in the world of sport, you will need to maintain and develop the skills necessary to improve the potential of you business.
Guiding staff and passing on experience: even the most talented of athletes can't rely on natural talent alone. Athletes need to be nurtured by coaches, mentors and the like. Training staff on avoiding known pitfalls and introducing improved operational methods is guaranteed to achieve better results.
Introduce new technologies to improve performance: sport has evolved over time thanks in part to the introduction of new equipment and technologies. Businesses should always be on the lookout to modernise by implementing advanced technologies that streamline business procedures, improve productivity or attract new customers.
Learn the strengths and weaknesses of business rivals: business like sport can be extremely competitive. We can improve our own business model by keeping a close eye on our competitors and analysing their performance, business methods, success and failures.
Finally, visualise your own future success: a major component in a successful athlete is having the correct mindset, the confidence to be competitive. By visualising your future goals this will assist you in putting in place the necessary changes needed to achieve such goals. Explain to your employees the reasons and benefits of such changes and motivate them to achieve their best. Having a common goal and mindset across your organisation is certain to bring the results you require.
Like our athletes who strive to go Faster, Higher, Stronger; endeavour to do your best and become the Gold Medal favourite in your field of business.