People in the commercial cleaning industry have their own secrets, shortcuts and techniques to enable them to clean their clients' premises with a minimum of fuss and with maximum results. One product we like to employ when cleaning is the use of microfibre cleaning cloths.
What is a microfibre cloth? It is a cloth with a blend of 20% nylon/80% polyester that comes in a variety of weaves and textures for use on different cleaning purposes such as dusting, cleaning windows and mirrors, floors and computer screens.
Why use microfibre? One of the major benefits of the microfibre cloth is that it leaves no lint behind, unlike when using other type cloths or paper towels. It also allows for quick drying and leaves behind no tell-tale streaks.
The added advantage of the microfibre cloth is that it washes easily for reuse. With literally hundreds of times that it can be reused, this single product can last years making it extremely cost effective and efficient.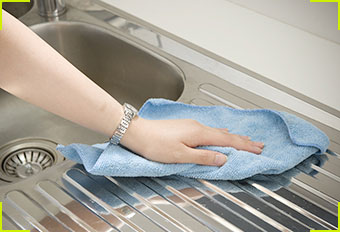 What's the best way to clean microfibre? Your microfibre cloth can be rinsed clean and wrung out as your using it. For best results launder it with detergent (never use fabric softener).
You can purchase microfibre cloths in packs, as I do. They come in a variety of colours which can be designated different colours for rooms or tasks.  For the uninitiated, I recommend you use microfibre, whether it be for commercial cleaning or just around the home, it's the product of choice of the experts.